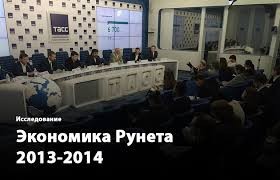 The RUnet Economics Study was conducted this year by the Russian Association for Electronic Communications and the Higher School of Economics'  Faculty for Communications, Media and Design.  The report was presented at the Russian Internet Week 2014 conference. 
According to this study, the total volume of Internet markets for 2013 amounted to 1.1 trillion rubles, which equals 1.6 percent of Russia's GDP.  The content and services market amounts to 750 billion rubles, while the e-payments market is worth 350 billion rubles. Internet penetration within Russia, according to data from summer 2014, reached 62%.  Experts think it will likely to reach 76% by 2020.
If the economy declines, a significant number of users will opt for 'free' over 'paid' content, even if this free content is pirated. Only 21% of users are ready to pay for legal online content.
The Internet industry is growing significantly faster than the Russian economy as a whole.  In 2014, the Internet market is due to grow by 30%. However, increasing stagnation, lack of investment and reduced user purchasing power will also impact the Internet.
According to a scenario of stabilization predicted by participating experts, the average annual growth will reach 15-20%.
The number of people employed in the Internet industry continued to grow.  In 2013 there were 1.2 million people employed, and in 2014 this number increased by an additional 20%.