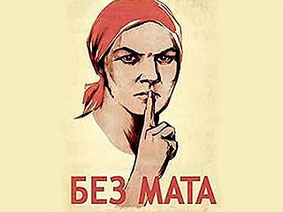 The Russian State Duma, after a second hearing, has approved the law against usage of swear words in Russian media, on stage, in theatres, books, movies, and on TV and radio.  Books and movies containing swear words as part of artistic expression are requested to be marked with specific symbols and sealed with a plastic cover.
Identification of what is considered to be "swear words" will be performed by an independent commission.  This law was initiated by the Russian Culture committee and United Russia political party.
After the first hearing, this initiative was rejected by the State Duma because of an absence of clear definition of what exactly is considered to be «obscene speech».
According to current status, the violation of this law will require citizens to ppay heavy fines, for a second violation, they could be disqualified from their job for a year. 
Many Russian filmmakers have criticized this law, underlining that "In a country where half of the population use slang (including many lawmakers) it is ridiculous to prohibit its usage.  Russian "mat" is the brightest tool of emotional expression, and this tradition has long historical origins" said Andrey Stempkovsky a Russian film-maker, to Russian newspaper Gazeta.ru.
Stempkovsky has compared the initiative to prohibit MAT in Russia with one of the famous anecdotic phrases used by a participant of Soviet Leningrad-Boston tele-bridge: "There is no sex in the USSR."
Also, many Russian theatres are now in a very difficult situation, since there are many plays on the modern stage that use "bad" words as a form of artistic expression.
Russian producer Mikhail Ugarov said that this new law goes against copyright law. "As a theatre producer, I cannot change the text written by the author, since that will be a violation of copyright.  Copyright is also regulated by law, and we cannot waive it".
«The Russian Language is stronger than any law, and it will win in the end» - Ugarov declared.
Russian online media has celebrated the last day of legal swear word usage by posting all types of swear-word jokes on their Social media pages.